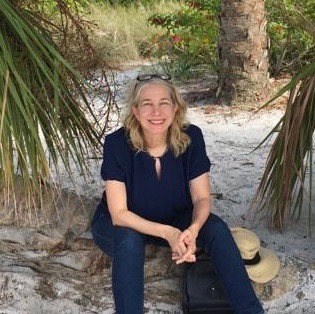 Jill Slaymaker was born in Youngstown, Ohio in 1955 and grew up in Indiana and New Mexico. She received a MFA in Painting from Texas A & M in 1981, and moved to New York City in 1982. She lives in the Hell's Kitchen neighborhood of Manhattan.
Her work has been exhibited nationally and internationally, including at the Tate Modern, London; Museum of Modern Art, New York; and the Dabawenyo Museum in the Philippines. Fourteen one-person exhibitions include The Davis Museum of Contemporary Art, Barcelona, The Nabi Museum of the Arts, Teaneck, NJ, Jonathan Gerstad Gallery, New York, Port Authority windows, Manhattan, and Drawing Rooms, Jersey City. In Sept. she will have a retrospective at Michael Murphy Gallery in Tampa, Florida.
Jill's artworks are in the collections of The Museum of Modern Art, NY, Whitney Museum of American Art, NY, Library at the University of California, Santa Barbara, Davis Museum of Contemporary Art in Barcelona, Spain, and Caroline Kennedy's ambassador residence in Tokyo, Japan, among others.
She is married to the composer Ned Paul Ginsburg, and they have a son, Alexei.